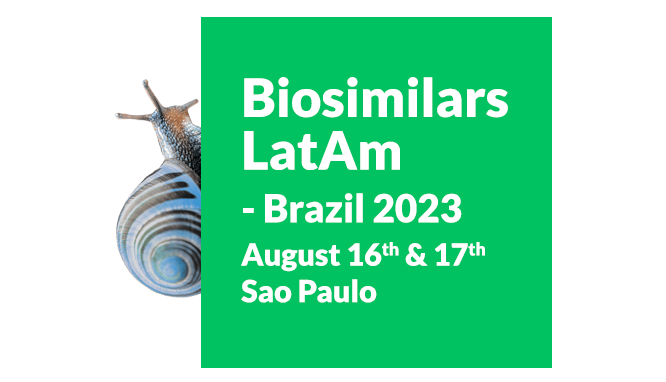 Biosimilars LatAm – Brazil 2023
The Forum provides in-depth regional analysis and information regarding commercialization strategies, regulation, good manufacturing and distribution practices, international market trends and more.
With a particular focus on providing the insight about the clinical practice and prescription of these drugs in the country, seeking for a greater access to biological treatments for patients in Brazil.
Who will
you meet?
More than:
Industry Executives from Latam
From these areas:
Biosimilars
Biobetters
Biotechnology
Biotherapeutics
Analytical science
Regulatory compliance
Quality Control
Clinical immunology
Scientific Affairs
Pharmacovigilance
Research
Regulatory
Business Development
Marketing
New Biosimilar Vision in Brazil, PDP Policy Update and Other Mechanisms for Production
Butantan - Sandoz: 2 New Biosimilars for Brazil. Reference Study
Biosimilar's Real World Data
One great opportunity in Brazil are the PDP's, the partnerships have to be mutually benefcial for the company (the technology holder) and the receptor company and the government.
CDMO Usability in Other Mechanisms for Production in Brazil
Interchangeability in Brazil. Data and Analysis
HCPs, Patients and Industry assesment of different molecules
Regulatory Agencies: New LatAm Landscape
Full Programme in the PDF Agenda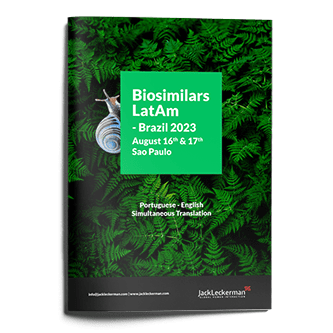 Latest News on Regulatory Processes
For Brazil and ANVISA specifcally, regulatory convergence is a key point and a major value when looking forward to the effective resolution of the biosimilar challenges.
Greater Access to Safe and Effective Life-saving Medications
The main barriers for biosimilars uptake can vary depending on the stakeholder perspective. The main challenges are those related to education regarding biosimilars conceptualization and switching, therefore Biosimilar's education should be stimulated and incorporated in the curriculum of all medical, nursing and pharmacy schools.
Tendering Procedures: Healthy Competition and Public Health
One great opportunity in Brazil are the PDP's, the partnerships have to be mutually benefcial for the company (the technology holder) and the receptor company and the government.
Biosimilars Interchangeability
Interchangeability designation enables auto-substitution at the pharmacy level. The interchangeable product will have the same clinical result as the reference product.
Biosimilars Market Innovation: from Developing a Mindset for Global Competitiveness to Business Strategies
When it comes to biosimilars, we can innovate not only in the essence of the product but also in the essence of the business strategy.
PDP's Success Stories
Samsung Bioepis and Bionovis partnerships is one of the best PDP cases. Since 2019, no delay in process of technology transfer, strong partnership with local partners, and the 1st Korean pharmaceutical company in 2019 to supply biosimilars through PDP. Samsung's goal is providing biosimilars to enhance patient access to treatments in Brazil.
Protecting Patients: Minimization and Communication of the Risk of Adverse Reactions Focused on the Clinical Practice
Regulatory authorities and pharmacovigilance systems in Latin America and the Caribbean, and in general around the world, seek to be more proactive than reactive in communications and seek harmonization.
Good Distribution Practices: Stakeholders Perspective
Medication management during its manufacture, storage, distribution and prescription has a direct impact on patient safety.
GVP Case Study
Investing in education on health policies can help to minimize the Nocebo effect.
How Do Quality Considerations Impact Clinical Immunogenicity?
Sterility within Production Processes
Clinical Focus on Pharmacovigilance Systems
The clinical pharmacovigilance approach aims to promote the rational use of medication by implementing pharmaceutical attention services.
Case Study: European Market Dynamics
Biosimilars offer a way forward to improve the care of patients with proven similar effectiveness and safety between originators and biosimilars, e.g. NORSWITCH study in Norway.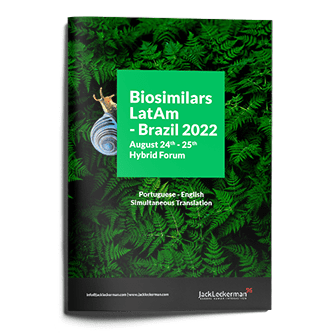 Photo Gallery from Previous Events